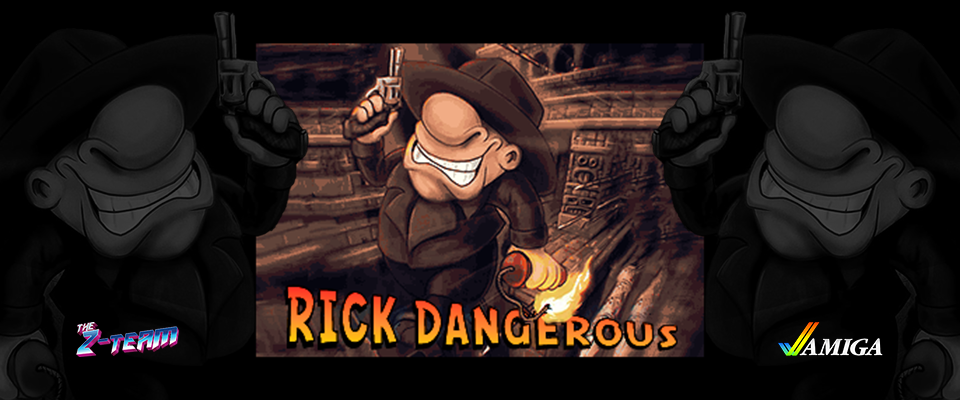 Rick Dangerous - Amiga - Enhanced graphics
Rick Dangerous is a very challenging platformer that made you feel like an Indiana Jones character traversing dangerous locations such as caves and temples while avoiding the bad guys and deadly boulders and spiked traps, then you might like this latest news story.
The game was originally developed by Core Design (Simon Phipps) and published by Firebird in 1989 and this version which is a backport of the Nintendo Wii edition (remake by Magic Team) lwith 32 color palette which is getting a graphical overhaul in development for the Amigamejam competition.
The game was entirely developed with Scorpion Engine and will be delivered in an Amiga 1200 and CD32 version.

Original game by : Core Design
Plateform : ATARI ST / AMIGA OCS
Programmers, Game design: Simon Phipps
Graphic Artist : Simon Phipps, Terry Lloyd
Graphic Artist Wii Version : Dalk
Release : 1989

Remake : 2022
The Amiga version port contains the follow features..
All graphics remastered by Domkid (from Wii Version)
Brand new title screen ( 2018 Original illustration by Simon Phipps)
Music Module by Dom
Build with Scorpion Engine (Domkid, Troudki)
System requirements
Amiga 1200 ou Amiga CD32 console with 1Mo FastRam. The game comes as an ADF file and ISO File so either write it to floppy disk/burn cdrom, mount it on a Gotek ( other drive emulators are available) or play on real CD32 console. If you don't own an Amiga then you can boot the ADF/ISO in any popular emulator such as WinUAE or FS-UAE.

Instruction
Joystick or Keyboard to control Rick
Fire Button for shoot balls
Key 'B' to place the bombs
Beta 0.4 Version
level South America : almost done
level Egypt : WIP 70%
level Schwarzendumpf Castle : WIP 70%
level Missile Base : WIP 40%
Download
Click download now to get access to the following files: